Posted on June 15th, 2009
In order to make a pork tocino, you will need to have its main ingredient which is the meat. It would be better to use any of the following parts of meat: Kasim or pork pigue (lean pork). You can use it with or without skin, depending on your preference. Have the bone removed and slice it to ¼ inch thick. Here are the things you need to on the steps you need to take on how to make tocino: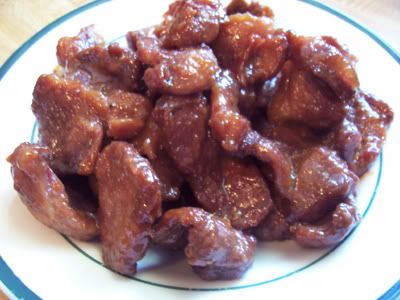 Prepare the following Ingredients:
• 5-8 tbsp- sugar
• 1 tbsp- gin or rhum
• 2 tbsp- salt
• ½ tablet- ascorbic acid
• ¼- ½ tsp- Prague powder( also called curing salt, insta cure or modern cure)
• 1 tsp- monosodium glutamate(MSG/ vetsin)- this is optional
After preparing the ingredients, make sure that the following equipments are available:
• Chopping board
• Knife
• Weighing scale
• Measuring spoon
• Mixing bowl
You will also need packaging materials
• 6'' x 12'' Polyethylene bags( thermoplastic),with 0.003 thickness
• Rectangular Styrofoam with cling on top
Now you are ready to make Tocino.
• Cut the meat into ¼ inch thick (0.63 cm)
• Put all the ingredients together for curing
• Mix it to allow even distribution while rubbing both sides of slices
• Rearrange the slices then cover the bowl
• Allow the slices to cure
12 hours- at room temp
3 days- in the refrigerator
Note: To prolong shelf life, you may dry the slices under the sun after curing.
Home Recipe of Tocino
Ingredients:
• Meat cut into ¼ inch thick- 2lbs ( you can use pork chops or red loin with fats)
• Annatto (atsuete) water- 2 tbsp
• Anise wine- 2 tbsp
• Salt- 2 tbsp
• Sugar- 4 tbsp
• Salitre (saltpeter)- 1/8 tsp
• Cooking oil- 2 tbsp
Procedure:
• Except for the pork, mix all the ingredients in a shallow pan
• Then, pour the mixture onto the pork. Ensure that it is evenly distributed.
• Stack the pork inside the container then cover it. To allow curing, place it inside the refrigerator for about 3 days.
• When cooking, place the pork in a frying pan and add a little water, then fry.
Related Video: